KISS
©2011 Alison Hicks
Published by PS Books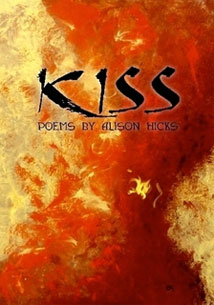 Cover: ERUPTIONS
#5,
Composition 312
by Paul Scott Malone, ©2004, used with permission
http://www.paulscottmalone.com
Available from Lulu.com. Click here to order
(and available as a .pdf download from Lulu here: Click here to order)
Also available from Amazon.com. Click here to order
(A limited number of signed copies are available directly from the author. Click here)

---

---
"With her keen eye, with her precise ear for just the right descriptive word, Alison Hicks's poems enlarge daily life. Whether running into the father of a childhood friend who committed suicide, or meditating on Chekhov, or reciting the mantra of drugs used to treat migraines, Hicks transforms daily experience into something larger, and more transcendent. Her poems glow."
-- Kim Roberts, author of Animal Magnetism
---
"With particulars and a particular strength of mind, Alison Hicks's debut, KISS, is a plan for a house and its furniture: it is the map of where to sit, how to weigh, when to measure and to count— the ways to mark the world wherein we lie."
-- Michelle Taransky, author of Barn Burned,
Then, winner of 2008 Omnidawn Poetry Prize
---
"In their provocative discontinuities, their subtle fracturings, their stops and starts, Alison Hicks's poems often evoke a provisionality which is the essence of embodied thought, as we squint to apprehend it, as we stutter to parse it out, as we stagger into its illuminations. How men and women surface out of their childhoods; how longing extends itself to the friend on the telephone, the man glimpsed in the street; how our bodies and our minds betray us inexorably into loss – these are mysteries, and Hicks acknowledges their occultation even as she presses us to perceive their complex significance. One poem here poses 'accuracy' against 'clarity' – a fine distinction – but Alison Hicks's strong vision offers us both."

-- Nathalie Anderson, author of Quiver